"Suddenly, we're there, and the story is unfolding around us . . . " Audience 
Storytelling is ancient magic, made new in each telling.  I tell stories to adults, children, families and community groups, indoors and in nature.  I specialise in responding to a brief, so if you are organising an event, party, launch or even want to bring some sparkle to an AGM, contact me for some creative ideas!  My story performances usually include some music, and opportunities for the audience to get involved.
I have told stories and created projects for:
Schools
The Story Museum (See News!)

Oxford Brookes University
Oxford University Botanical Garden
Oxford University Arboretum
Glastonbury Festival
Oxford Storytelling Festival
Shotover Country Park
Barracks Lane Community Garden
Commissions  I have written and performed original stories for:
Oxford University Natural History Museum and Pitt Rivers Museum – Michael Mouse and the Screamer
Cultivate – The Princess and the Singing Food 
Broken Spoke –  How the Bicycle Became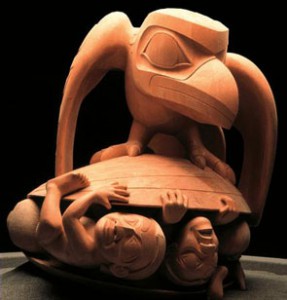 Repertoire  Over the years I have built a repertoire of stories connected with earth and the seasons, trees and plants, animals and birds, women and transformation.  I tell stories from many lands.  I have a particular resonance with the Raven stories of the Pacific North West.  I also tell many of the stories collected by Clarissa Pinkola Estes in her book, Women who Run with the Wolves.
Storytelling Shows
I created four shows for adults, performed at festivals and community venues in Oxfordshire.
Marigolds and Ashes (with Liz Rothschild) –  an exploration of death and remembrance, through storytelling, poetry and music, inspired by the Mexican Day of the Dead.
"By turns sad, edifying and even funny. It brought the audience into a very reflective, heartfelt space." Polly McLean on Marigolds & Ashes
A Silver Thread – a celebration of Old Woman (with Adele Moss)
She is Gold – a celebration of the Divine Feminine (solo show, designed by Su Page)
Wise women, magical maidens – a celebration of Heroines (with musicians Josie Webber and Janet Stansfeld)
To keep in touch with my next Storytelling performances, please subscribe to my mailing list.
Home / Storytelling in Schools / Blog / Shop